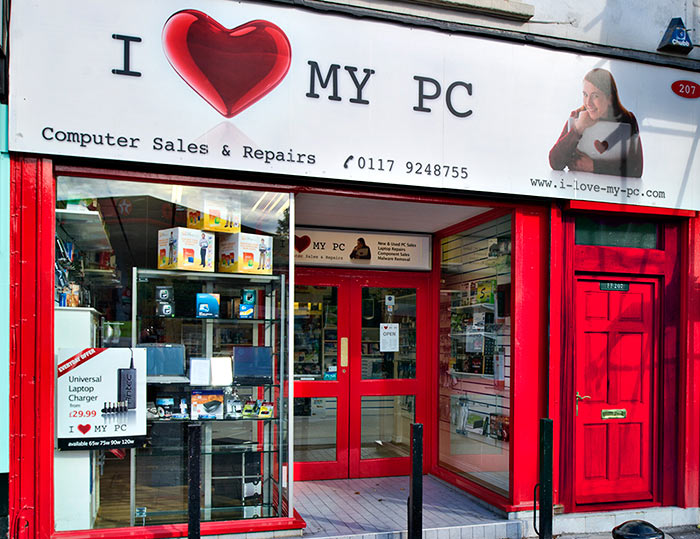 I Love My PC is set-up to serve Bristol with easy to use laptop & pc sales and repair services. With over 30 years experience of building and maintaining personal computers and networks we have a comprehensive knowledge of most aspects of modern computer care.
Our high-street shop stocks a broad range of quality branded computer products at reasonable prices. You'll find complete computer systems, laptops, tablets, and a comprehensive range of components, peripherals, and accessories on our shelves. Come in and browse our stock and we'll be happy to answer any questions you may have.
Our purpose-built workshops enable us to investigate and repair most problems in-house. This means that your computer faults can be evaluated and turned around quickly and efficiently.
We operate our business with a keen eye to costs, and are able to pass these savings on to you through our competitive pricing.
If you have any problems with your computer, please give us a call, send us an email, or visit us in our shop. We are sure that you will find our staff to be friendly, knowledgeable and helpful, and we look forward to serving you.
Amazing service! This guy really knows his stuff - even explained what he was doing so I could fix the problem myself if it happened again. This is someone who genuinely takes a pride in his work/ business.
Just a note to say thank you for your assistance with upgrading my Asrock 300 mini pc bios to support the new 5700g cpu I'm a nervous brand new PC builder and had done a lot of research but was very grateful and relieved when he said yes I can and it would cost £25.00 and he be in touch in 2-3 days. 2 days later I got a call and collected my now upgraded and posting PC . In addition he had modded my wraith stealth cooler to fit the case no charge! Subsequently I've installed windows 10 and done some limited overclocking it's scorchio! I love my new PC Would recommend this team. Great price and customer service, will definitely go back. Regards RobF
So helpful and sorted my PC issue straight away, would definitely recommend them.
Honest, quick and helpful. Couldn't ask for more
Very friendly professional service. You feel your equipment will be safe in their hands because they care and check everything.. Can recommend them without reservation on knowledge, care, and pricing.. They brought my expired laptop back from the dead. What more can you say?!
Fantastic service this morning. Emergency laptop battery change required before travelling. Job too fiddly for me. They had it changed first thing with no fuss. Very professional. All now working perfectly.
What a great service. I cannot recommend "I Love My PC" high enough. They sold me a fantastic laptop at a great price. My son spilt a mug of mint tea over it, after only 4 months of ownership!! I called up to order a new laptop but instead they thought there was a chance of fixing it......After a lot of perseverance and dedication it was fixed and is as good as new - Brilliant. I have also used I love My PC to fix, upgrade and service other laptops. They are very professional and clearly explain what the charges are before starting any work. This is a great business that will give you sound advice and solutions. I am under no doubt they go the last mile to keep a machine running or find a best solution to a problem.
Caroline Goldstein
2021-07-28
This place is such a find! I needed a new laptop and went to ask advice at a certain department store, but the adviser gave me too many options all of which were too fancy and out of my price range anyway so I came away bamboozled and clueless. I went to I Love My PC and Dave sorted me out very quickly. He really knows his stuff and was great at homing in on what I was after then matching it to what he had in stock. I chose a laptop with a better spec than expected and saved at least £200, if not more as he pre-loads a free version of Office so that's another £120 saved. The best bit is that, as he says, the whole point of the business is to keep stuff out of landfill, so not only have I bought a reconditioned laptop which otherwise would've been dumped, he's taken my old one off my hands and I trust him not to ditch it. He also transferred everything very quickly from my old laptop to my new one, so I now have a good-as-new laptop which is a better spec than I expected for way less money and I don't feel guilty about ditching the old one. Can't ask for more and I'll certainly use this shop again in the future.
Just popped in to get a spare laptop charger as I thought mine is broken. But instead they managed to fix it while I was waiting. Excellent, professional and fast service. Very recommendable.
Top class business; a total delight of competence and friendliness. I am already looking for reasons to come back. Also their hand gel is wild.