If you have questions about how to fix or maintain your PC and you are in Bristol – Consider popping in to see us. Why I Love My PC? We'll get into all of the details later, but first, let's explain who exactly we are and how we are ready to help you…
I Love My PC – Years Of Experience
At the shop, you'll find David, Ian, and Chris.  Ask for them by name, tell them you saw their names in this blog post!
I Love My PC itself has been up and running for over 15 years. Between us 3 as technicians, you consult with over 70 years worth of experience in assessing, building and repairing everything that relates to a personal computer.
Mostly, we fix laptops and help people to build PCs, but we also help with accessories. You wouldn't believe some of the stories we've heard over the years..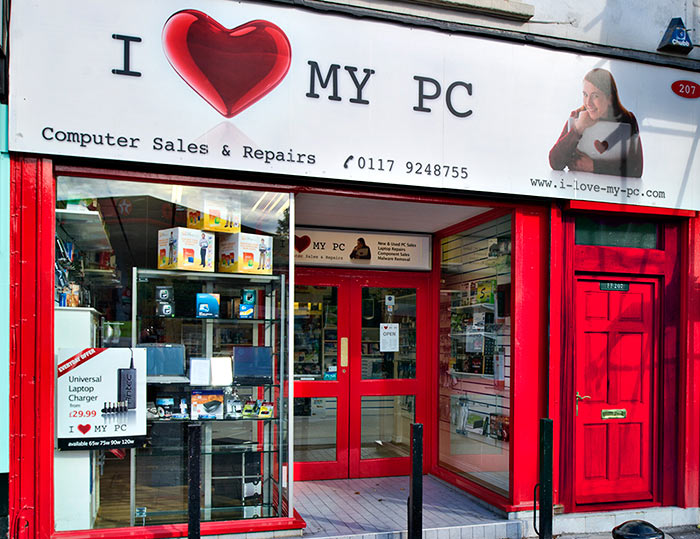 What We Really Care About – Fixing Your Problem
This one should be pretty simple. We have been in business for so long, simply because we focus on 1 thing – giving you the best service and customer care we can.
We are local people running a local business.
We care about our local community as well a the businesses around us and the global environment – more on that in another post.
How We Go About Helping You Solve Your Computer Problem
There are times when we can solve your problem in 10 minutes with a simple trick at the counter. Sometimes we need to take a few hours to assess your machine. In general, we can give you an answer and a timeframe pretty quickly, but sometimes we need to do a deep dive for you. What we do promise you is that we have dealt with thousands of machines and issues over the years. We make it our job to save you as much time as possible to get your machine up and running again.
No one likes being without a computer for any longer than needed. You also don't want to be shelling out for a ton of extra parts when you just need the machine to work for the next day so you can finish writing up some urgent notes or an assignment.
We know the difference between "Can you get this sorted for today?" and " Take your time, I can wait a week". To be honest we know that you never choose to be without a computer at all if you can help it. So we give you an honest analysis and a bunch of options so that you can make the best choice for your individual situation.
We Are Happy To Refer You To A Better Solution
We're pretty good at fixing around 99% of the problems that people hit us with on a daily basis. Occasionally, something comes up where we don't own the super expensive equipment needed for certain jobs. So, now and then, we're happy to refer you to someone else if it isn't something we cover.
In June 2021 ( at the time of writing) we don't fix Apple computers, but by the time you read this, we just might…Sometimes we refer you elsewhere for something as simple as finding your preferred replacement desktop monitor on the same day or a type of power supply that we don't keep in stock. We'll usually give you a bunch of options based on your needs on price, timescale and quality.
You Could Actually Get A Free Repair
Some computer repair shops charge you just to look quickly at a machine. We don't think this is fair. So…We give every customer that walks through the door a quick assessment for free.
Yes, you could actually have your repair done for free if we can fix it in 5 minutes with no extra parts.
There are many cases where the problem has just been a loose connection, which we can often find and fix without any trouble. Don't take our word for it…This is an example of a free repair you can see on Google reviews
How Long Do Repairs Take?
At I Love My PC we can repair some smaller laptop problems in minutes. Other jobs take a few hours. In extreme cases, we need to order new parts which means we are dependent on suppliers to get the job done.
We want you to have your computer problem solved with the minimum of cost and fuss and so we will always advise you on all the options so you can make the best decision for your situation. Our goal is to be as clear and simple as possible when we explain your problem so that you are in the driving seat with your repair. We understand that there is never a good time to wait around for a computer to be fixed. We know that…So we do our absolute best every single time.
Don't Take Our Word For It
If you want to see what other people think of our service, you can check our Google reviews. We respond to all the feedback we get from customers and that's why we're still here serving you after 20 years of hard work and diligent improvement.
Here is what some recent customers had to tell Google reviews :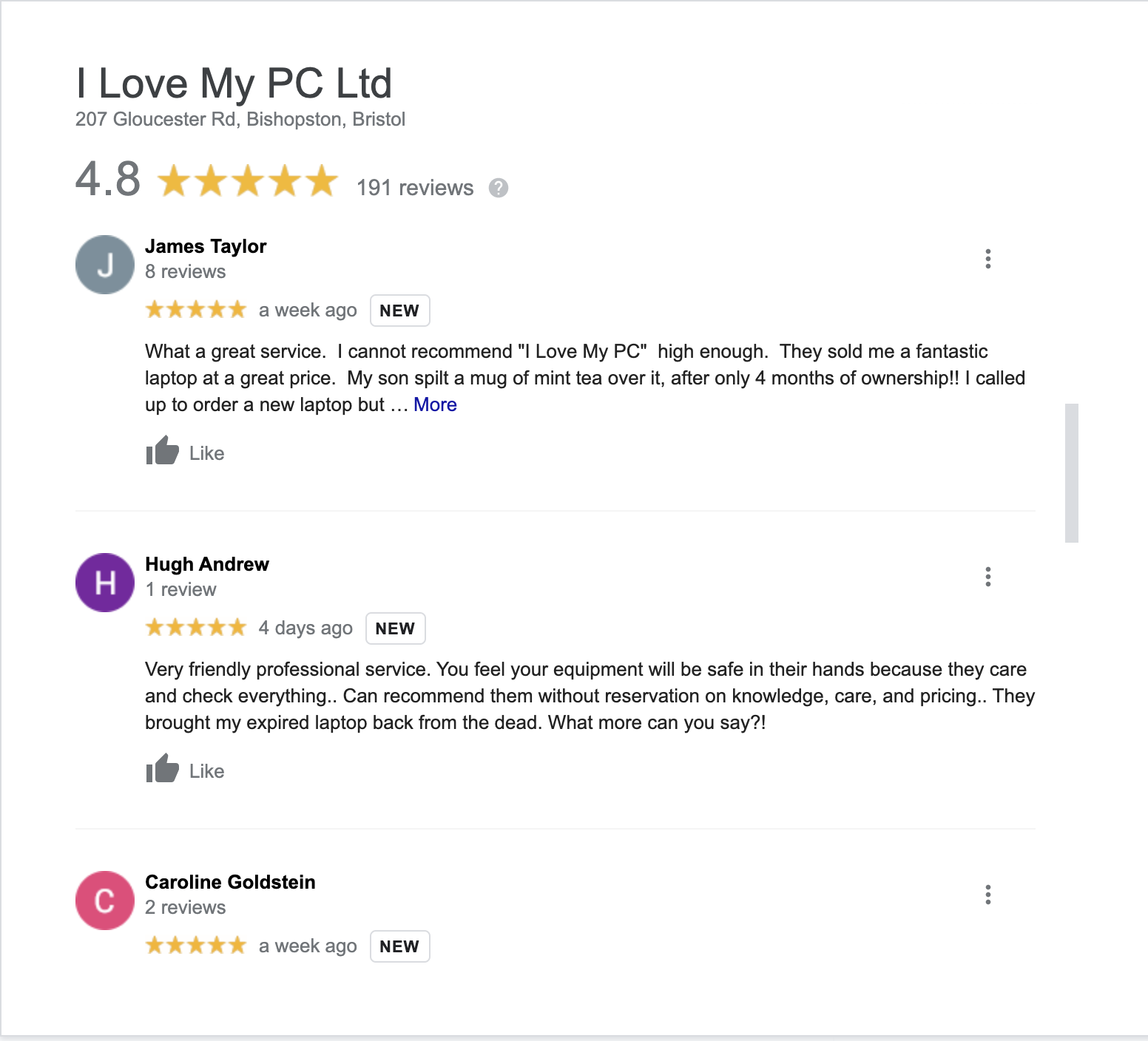 Get In Touch
If you have a query about your computer or you want some honest advice before leaving the house, use our contact form to get in touch. We'll be happy to hear from you and give you the best opinion we can on your individual problem.
Thanks for reading + Happy computing from all of us at I Love My PC!