Welcome to I Love My PC!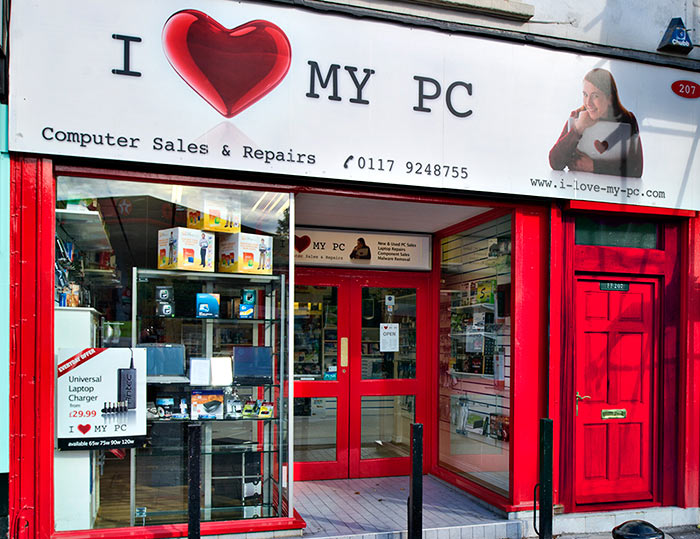 At our shop you'll find owners, David & Ian, and the rest of the team. Any one of them have knowledge and experience to ensure you receive the correct service to suit your needs, and always in a friendly manner.
We are open from Monday to Saturday 9am to 6pm (closed Sunday's).
Our Services (see Prices for complete list of services)
Laptop & PC Servicing & Repair

Custom PC's Built to Order

New & Refurbished Laptops & PC's

Networking & WiFi Evening Call-Outs

(by appointment)

Our Stock (stock enquiries 0117 9248755)
Refurbished Laptops

New & Refurbished Desk-Tops

Accessories & Peripherals

Components & Cables

Network devices

Ink Cartridges & Paper
How We Operate
We maintain a retail shop well stocked with ready to go new & refurbished computers, and a large well equipped workshop to service your laptop or PC. We carry out our own refurbishing of laptops and PC's for sale, and build custom PC's to order.
We provide evening call-outs for sorting home network & wifi issues, by appointment. Call us on 0117 9248755.
Some computer repair shops charge you for a quick look at your device. We don't think this is fair, and so we give every customer up to 15 minutes of assessment time without charge.
We aim to complete your job within 2-3 days. The actual time depends on the job and if we need to order-in parts to complete your repair or upgrade. Sometimes we have a longer queue of jobs, and you will be advised at check-in time of how long your job is likely to take. If you are in a real rush, we offer a priority service for an additional £24.99 which guarantees your job will skip the queue and go directly onto a bench.
We're able to fix the majority of problems people hit us with on a daily basis. Occasionally something comes up where we don't own the expensive equipment needed for certain jobs or have necessary specialised knowledge to resolve an issue. In these cases we're happy to refer you to particular specialist businesses from our trusted contacts.
Don't Take Our Word For It
If you want to see what other people think of our service, just look. These are our latest reviews pulled directly from Google:
Get In Touch
If you have a query about your computer or you want some honest advice before leaving the house, use our contact form to get in touch. We'll be happy to hear from you and give you the best opinion we can on your individual problem.
Thanks for reading + Happy computing from all of us at I Love My PC!